2008-09 YES National Event Highlights
Sixty Students from 24 States Compete in the Sixth Annual YES Competition
Alexander Chernyakhovsky from William Mason High School in Mason, Ohio, and Amrita Sehgal from Menlo-Atherton High School in Atherton, California, took top honors at the Young Epidemiology Scholars (YES) Competition and were each awarded a $50,000 college scholarship for their original research projects using epidemiological methods of analysis to investigate a health problem in a population.
For his project on the analysis of the global impact of avian influenza, or bird flu, viruses in humans, Alexander used computer-based modeling and simulation to predict the next areas of infection of humans and the timelines for outbreaks. He used data on waterfowl migration to track strains of bird flu viruses and determine the routes by which avian influenza can spread.
Amrita's research focused on teenagers' intake of calcium and their risk of osteoporosis later in life. She found that that only 38 percent of teenagers in her study consumed the recommended daily amount of calcium, and determined that only 23 percent of the girls got the recommended daily calcium intake as compared with 50 percent of boys. Amrita believes her results show a need for increased health education among teenagers to promote the importance of calcium intake.
"The YES Competition is designed to encourage students to explore careers in public health and epidemiology, but we know it does much more than that," said College Board President Gaston Caperton. "Alexander and Amrita addressed national and global health issues and we congratulate them. We look forward to seeing the outcomes of their hard work in the future."
See the YES press release and video profile of the first-place winners.
Alexander and Amrita were among 60 high school juniors and seniors selected to present their research to a panel of top epidemiologists at the competition in Washington, D.C., April 17-20, 2009. More than 560 students submitted projects on a broad range of topics including the relationship between combat-related posttraumatic stress disorder and partner attachment; the effectiveness of programs to reach underserved women with mammography; and the effect of socioeconomic determinants on nutritional behaviors and physical activity patterns. All finalists were awarded scholarships of at least $2,000, with the top 12 finalists receiving awards ranging from $15,000 to $50,000.
Students also had the opportunity to hear from leading epidemiologists and health officials including Dr. Sharon Kardia, professor and chair of epidemiology at the University of Michigan; Dr. Shiriki Kumanyika, professor of epidemiology at the University of Pennsylvania; Dr. Harvey Fineberg, president of the Institute of Medicine of the National Academies; and Dr. Jesse Goodman, chief scientist and acting deputy commissioner of the U. S. Food and Drug Administration.
Sponsored by the Robert Wood Johnson Foundation and administered by the College Board, "the YES Competition is one of the nation's most prestigious science competitions for high school students," said Risa Lavizzo-Mourey, president and CEO of the Robert Wood Johnson Foundation. "The impressive work by these students demonstrates that a new generation of epidemiologists is emerging, which holds great promise for improving the health of our nation." Now in its sixth year, YES has received 3,754 research papers in epidemiology from students from every single state in the United States, the District of Columbia, Puerto Rico, and as far away as American Samoa, and has awarded over 720 college scholarships-more than 2.8 million dollars.
Meet all of the YES Finalists!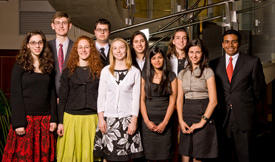 Region 1
Back row: M. Warshauer, A. Chernyakhovsky, C. Mhanna, N. Campion,
Front row: A. Goldin, Y. Neugut, K. Close, R. Patel, R. Mohammadieh, A. Joseph
Region 2
Back row: C. Jurman, F. Williams, K. Xu, R. Li, S. Trilokekar
Front row: L. Kaufman, K. Ennis, I. Rice, N. Rasoully, G. Milner
Region 3
Back row: M. de Nijs, W. Broderick, T. Burdick, G. Day, J. Bishai
Front row: E. Summerbell, H. Bands, A. Liu, R. Brazeale, S. Pienkowski,
Region 4
Back row: K. Dowds, W. Humann, J. Borgerding, S. Naik, B. Harris
Front row: S. Mehta, E. Mimms, A. Kuhlmann, J. Kao, V. Suresh
Region 5
Back row: S. Trusheim, R. Charate, M. Piccirillo, P. Miljkovic, S. Hopkins
Front row: D. Chen, A. Schleifer, A. Heeb, S. Suh, S. Beache
Region 6
Back row: I. Cameron, M. Vredenburgh, A. Sehgal, L. Baker, T. Holcombe
Front row: K. Mai-ton, T. Chen, A. Lin, A. Feldman, C. Morris